"Putting style on the road"
The story of Haldane Developments and what happened...
The Haldane HD-300
Basically 1st March 1993 saw a re-organisation of the shareholding under pressure from the investors.
First it should be understood that Haldane Developments was only possible due to finance provided by David Haldane. Alasdair and Brian had very little money to invest so David and his eldest son, Ian, were the shareholders.
In the 1980's and 90's with the demise of heavy industry in the central area of Scotland, there were several programmes to regenerate light industry in the area. This was generally led by the Scottish Development Agency and Blantyre, where Haldane set up business, was classed as a Red Zone i.e. top priority for investment. The SDA took a specific interest in this flagship company and other institutional investors came on board including British Coal and British Steel. Private investors were also encouraged to invest in such companies by allowing up to £12k of tax money to be invested.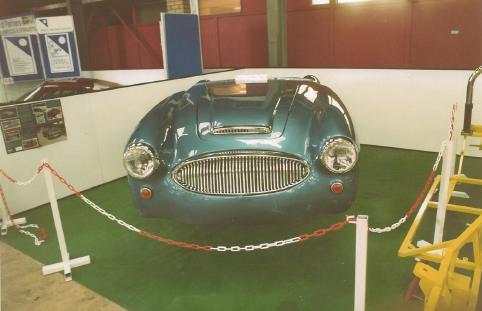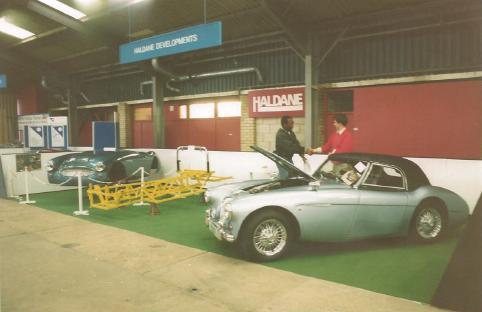 Haldane HD-100 and HD-300 on show.
Organising much of the investments was Roddy Angus, one of several investment managers at the SDA. He persuaded his father-in-law, Ian Robertson, a retired stockbroker to invest. Gray Mickel, a well-regarded driver who along with his wife Agnes, had competed in hill climbs in mainly Brabham single-seaters also joined the investment. Neil McDonald was highly regarded for his involvement and success in industry in the area. These investors regarded it essential to have a well-connected Sales Manager in place and Mike Bishop (ex-Lotus) was persuaded to take an interest and invest in the company. Managing all this investment and general finance was Roddy Angus who, whilst still employed at the SDA, was also now the Company Secretary. The investors then bought out David and his son.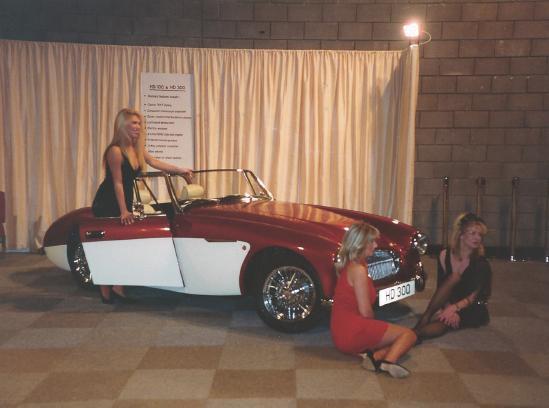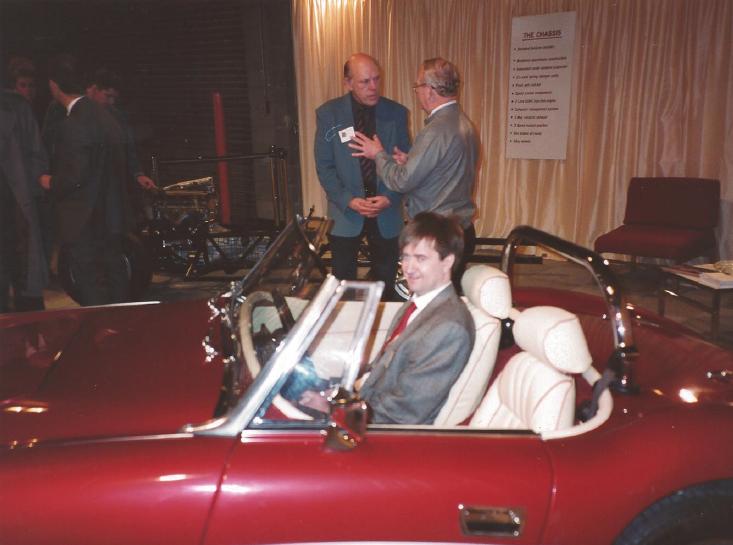 Haldane HD-300 on show at the SECC
Alexander Anderson, a local industrialist and former Haldane customer, also came on board. Although not a shareholder he acted as CEO at the request of the investors.
Against this list of "heavyweight" investors, Brian and Alasdair had less influence on product policy and market strategy and the emphasis was placed on fully built cars "to compete with Morgan", and to drop the kitcar image.
All production was now in-house and Trevor Lewis was in charge of composite production and plug and mould development for the HD-300. Prior to the move to East Kilbride all body shell production had been undertaken under supervision of Brian, by a father/son business in Leven, Fife

Titleblock for drawings. More than 5000 drawings were produced. It is not clear if these drawings have survived.
Investment however brought with it changes to product policy and management emphasis and Brian and Alasdair effectively lost control of the company.
Investment from local institutions such as British Steel, British Coal and the S.D.A.meant that as much production as possible should be done in-house by locally employed labour and any out work should also be sourced locally.
Also the investors wanted the kit image dropped and the HD-300 to be marketed as a fully Type Approved, factory built sportscar. With a CEO appointed and a Sales Manager/ investor contracted, the completed car was introduced at the SECC Motor Show in Glasgow and Earl's Court Motor Show, London, in 1993. Distributor interest was high and demonstrator loan periods were requested.
Brian Harrison at the 1993 SECC Motor Show talking to HRH Princess Anne and Jackie Stewart. Investor Ian Robertson in foreground.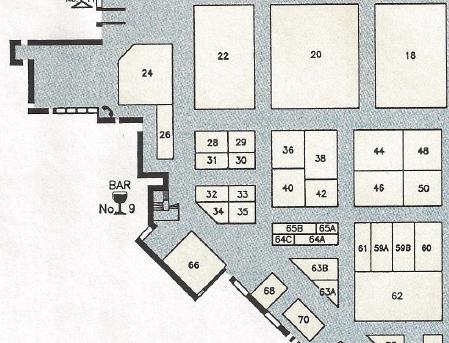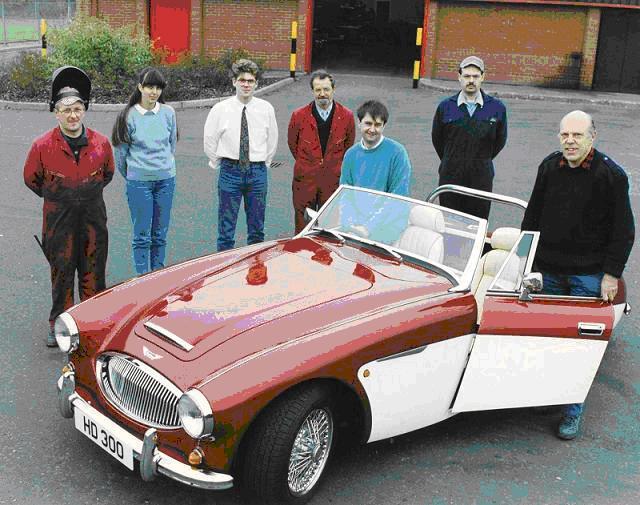 Left: Earls Court Motor show: Haldane Developments on Stand 28.
Right: The Haldane team November 1993 before leaving for the Earls Court Motor show with left to right:
Pat - Welding all chassis and components.
Louise - All office duties.
Colin Hughes - Purchasing and stock control. Stock computer programme etc.
Peter Girvan - Component manufacture and assembly including windscreens. Car assembly.
Alasdair Scott (in car) - Technical Director. Chassis design, production and assembly oversight. All Type Approval testing, compliance and documentation.
Sandy - Component manufacture and car assembly.
Brian Harrison - Managing Director. Overall management including composite technology, marketing, product policy and quality. Finance and investment. Component design.
Trevor Lewis (absent) - Production Manager composite manufacture, plugs, moulds and finished body shells.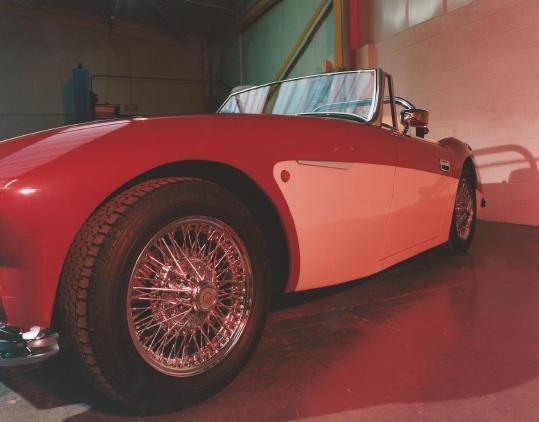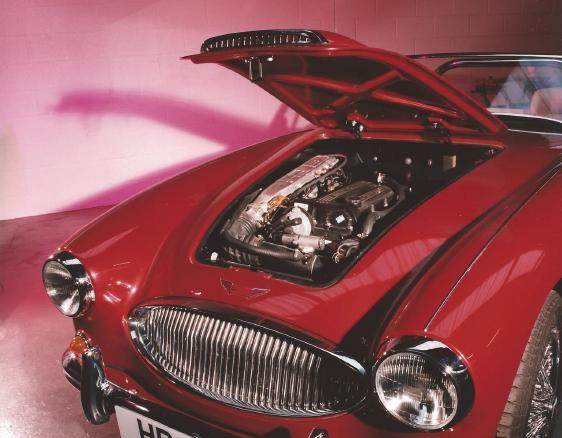 Photographs for the press.
The HD-300 now had Low Volume Type Approval. However quite a number of concessions had to be made to achieve this. The interior, dashboard and steering wheel, were necessary to comply with regulations. Moto-lita steering wheels and chrome bezels on the dashboard were not an option in this process.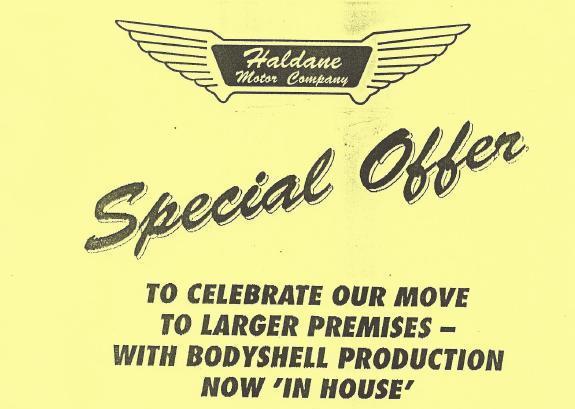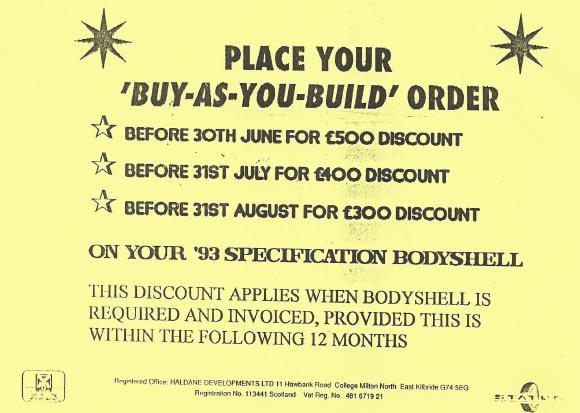 Spring 1993: Special offer on body shells made "in house".
Back to index
Next chapter->