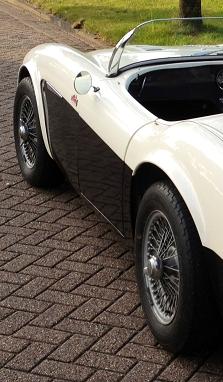 Front suspension.
The front suspension on this car is from an Opel Kadett C (Vauxhall Chevette). I think the reasons for this were availability, simple way of being mounted to the car and trackwidth compared to an Austin Healey 100. The Opel Kadett C was the car were coil springs were introduced as a successor to leaf springs. I inspected the front suspension and found it was quite rusty and (because the rear shock absorber bushes were knackered) I wanted to check the entire front suspension.

I put the car on stands and started dismantling the front suspension. I removed both wheels, both brake calipers and the steering column joint. After that I only had to remove 10 bolts and the entire front suspension was removed from the car. Further dismantling could be done on the bench, perfect!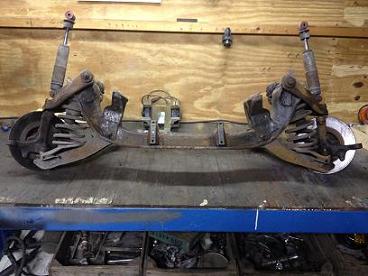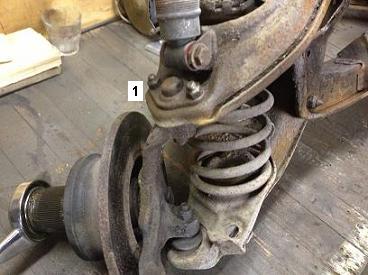 Front suspension on the bench.

The top ball joints (1) can be mounted in two ways, which affects camber of the front wheels. I took a note of how these were fixed. On the top trailing arms the caster can be adjusted with washers (2). I also took a note where what washers were fitted. After that dismantling was quite easy if a puller is available to undo the ball joints and steering arm joints. I also noted that the lower trailing arms have the reinforcement plate (3). This plate is a telltale of a suspension for the more powerfull variants. Less powerfull variants do not have this plate.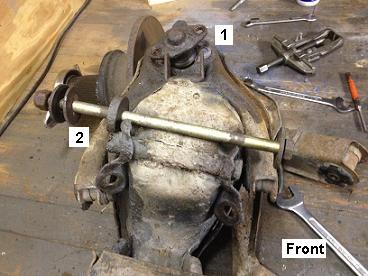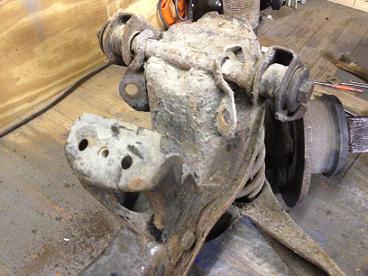 I took the entire front suspension apart and inspected all parts. I needed new top ball joints and new bearings for the wheels. I also bought new bottom ball joints and the two joints for the steering arms. I cleaned it all up and gave it two coats of paint. I will use new Nyloc nuts on all bolts, quite important! Everything is now ready to be assembled.
I was given a good secondhand steering rack to convert to left hand drive. While we are at it I will just as well convert to left hand drive.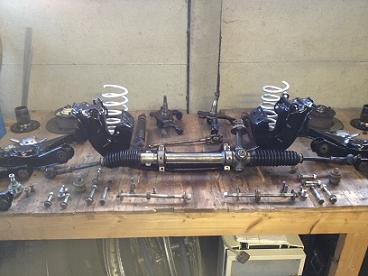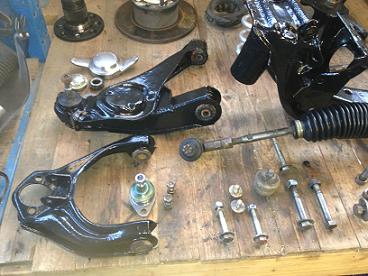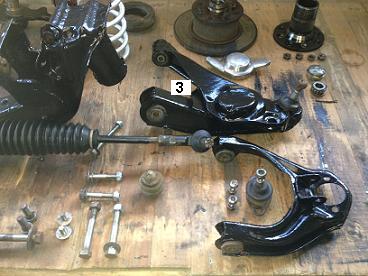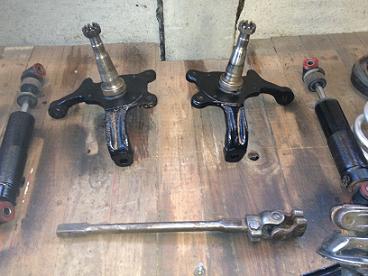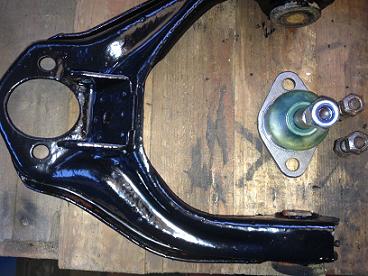 Rear suspension.
Time to get started with the rear suspension. When accelerating hard and with an adult passenger I noticed the wheels would come into contact with the body. I noticed earlier that the springs in the shocks could not be preloaded because the springs were too short according to the shocks. I made an attempt with spacers to resolve that and things had improved a bit. Time to deal with it better.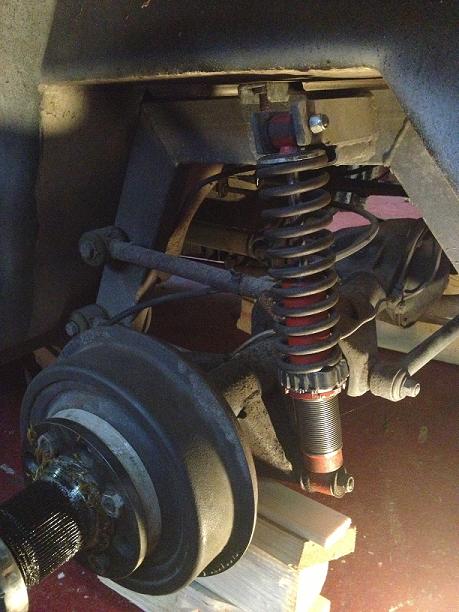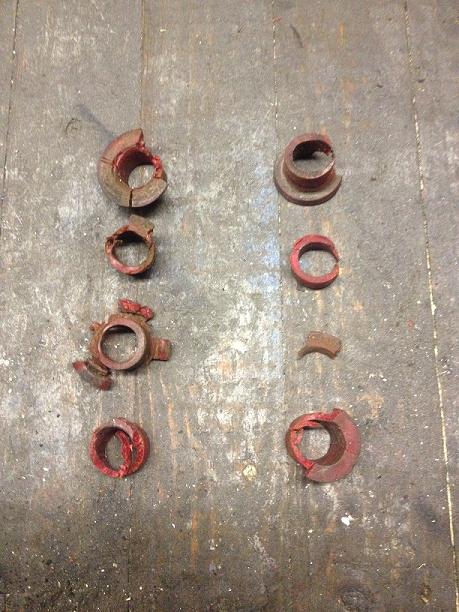 Spring mounted and spacer attempt. Old bushes were a bit worn out.

The rear axle is a Vauxhall Chevette axle, in Holland called Opel Kadett "C" or Opel Manta. At least I think so. The shock absorbers fitted are not standard, normally on the Vauxhall there are shockdampers and separate coils. The shockabsorbers do not have any markings. I don't know what make they are. I dismantled them and made extra spacers in an attempt to fix things. On the internet, however, I found used Proflex springs. Inner diameter 50 mm, length 285 mm and preload of 47 kg. I will fit these, spacers won't be necessary because the old springs are of lenght 200 mm and the Proflex ones are 285 mm. Proflex is a Dutch Company by the way.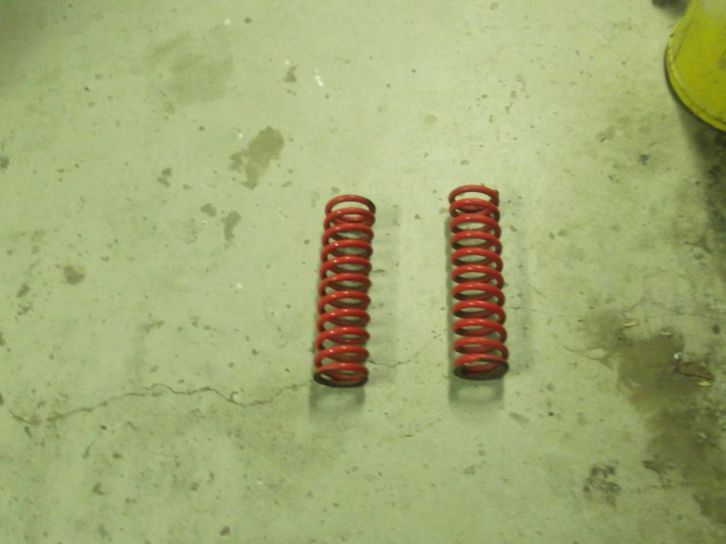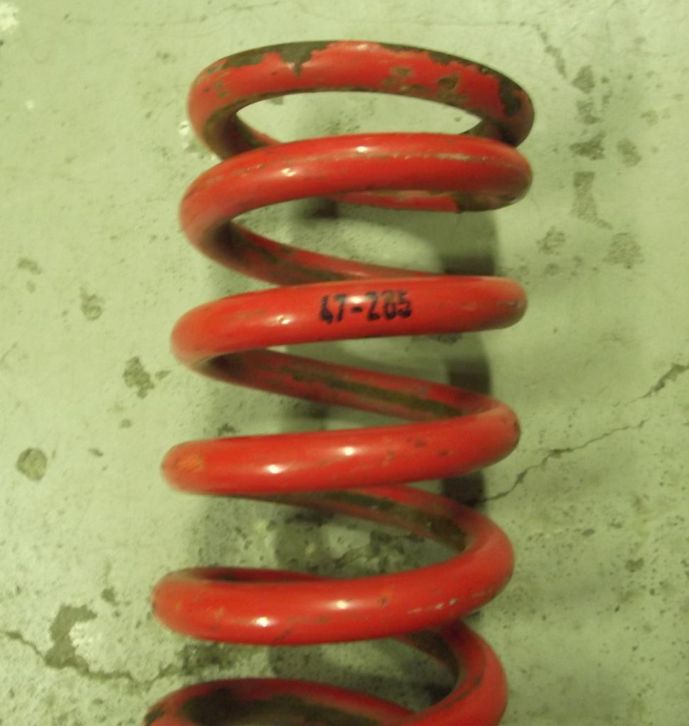 Proflex springs.

I dismantled the old springs and refurbished them a bit.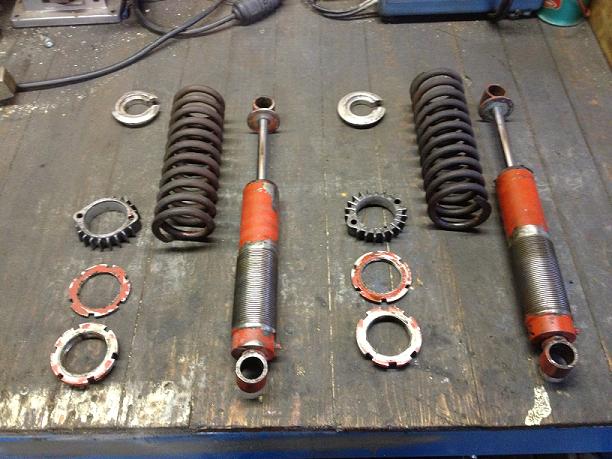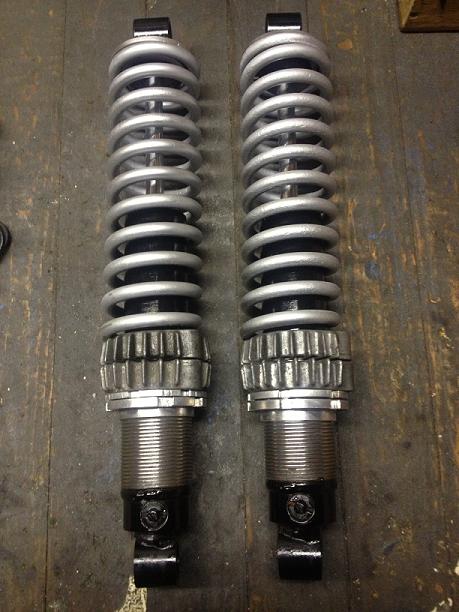 Wheels.
In order to examine the problem of the rear wheels rubbing against the body when accelerating hard and with an adult passenger I inspected the wheels and the trackwidth of the axles with wheels. The wheels on this car are 72-spoke 15 inch 5.5j wirewheels, with tires: Dunlop Sport Super D4 185/70 VR 15 Radial. Standard wirewheels as fitted to Austin-Healey's and MGA's for example.

I took off a rear wheel and hub. Hub has got 75 splines and a hub diameter of 62.5 mm. Hubs are stamped RSM BF RH101 (right hand side) and RSM BF LH101 (left hand side).
Wheelnuts are marked MWS KC4282R (right hand side) and MWS KC4282L (left hand side).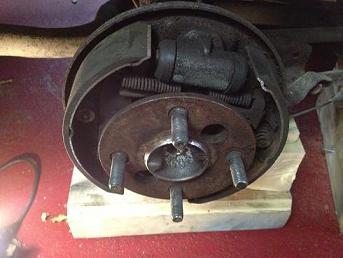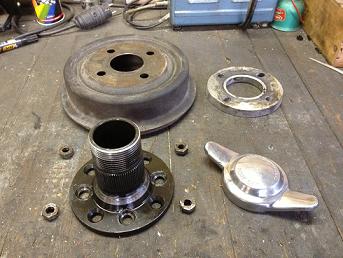 Rear brake has four 12 mm studs, length 32 mm, 100 mm center to center.

Trackwidth front is 1560 mm, this was measured between the outer sides of the front wheels.
Trackwidth at the rear is 1590 mm, a difference of 30 mm between front and rear.

An aluminium spacer is fitted at the back on each wheel, thickness is 14,8 mm. This explains the difference between front and rear track width.

I took off a front wheel. Hub has got 75 splines and a hub diameter of 62.5 mm. Hubs are stamped RSM BF RH101 (right hand side) and RSM BF LH101 (left hand side). Exactly the same hubs as fitted to the rear wheels....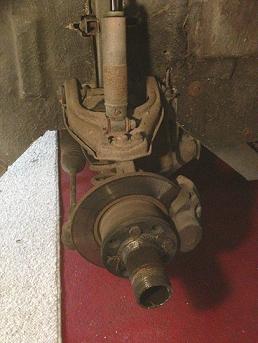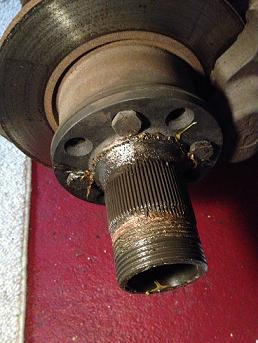 Front hubs are directly fitted, no spacers used here. Bolts are used instead of studs. Update: Studs are used.

I have made new spacers. Two spacers with a thickness of 10 mm and two spacers with a thickness of 5 mm. I will fit these in turn to see if narrowing the wheels at the back will help.

With the frame of the car suppported on wooden blocks, shocks removed, it can clearly be noticed that the wheels will rub against the body at some point. I cannot believe however that the body will go down that much when driving the car.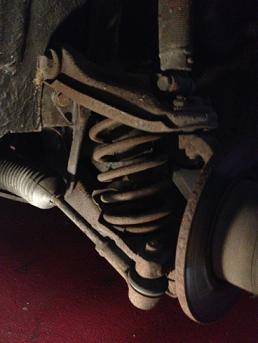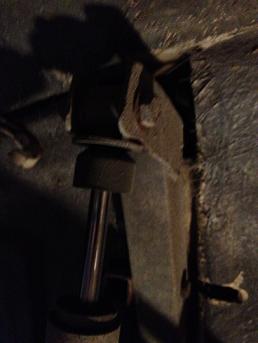 Another two pictures of the front suspension.

I will refurbish both rear and front suspension soon and fit new bushes, bearings and locknuts. Maybe early next year. A friend of mine has a complete front suspension for me to use. It has a left hand drive steering rack, so maybe I will convert to left hand drive. Another plan is to fit a 5-speed gearbox. Because of the 4-speed box the revs on the motorway are rather high....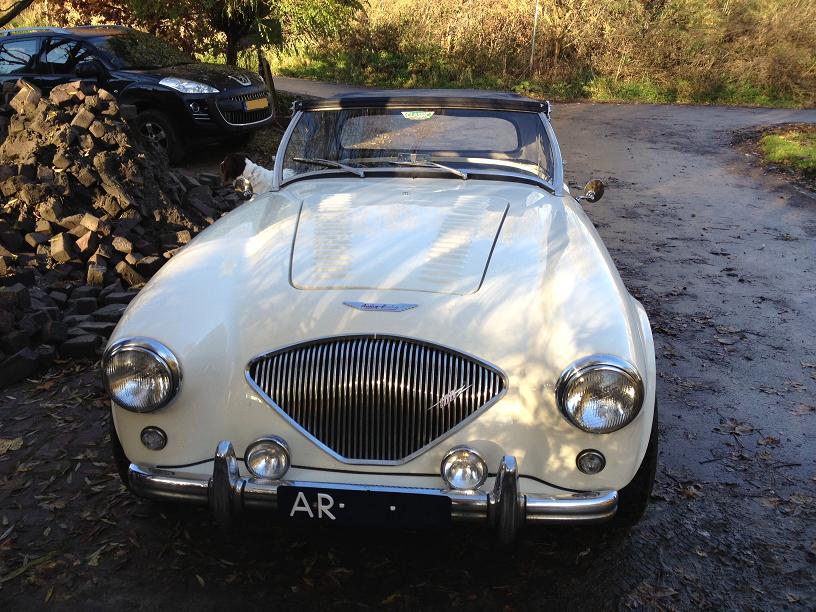 Site hosted by in2documents BV Klundert