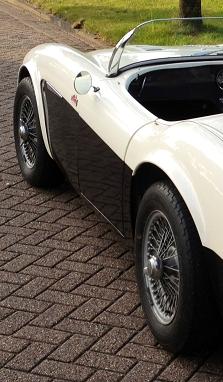 MOT 2015-2017.
In Holland we have to deal with a periodical vehicle check, called APK, which is similar to the MOT in the UK. Cars older than 30 years need to be checked and approved every two years. Cars with a registration before 1 January 1960 are excluded from this rule. My Haldane has a registration date of 4 January 1968 (don't ask) so it is APK time!

When I imported the car from Belgium in 2012 I applied for a registration by the Dutch DVLA, called RDW over here. They also issued an APK certificate. This certificate was valid until 23 August 2014 after which I suspended the registration of my car for the following year. This was because I bought a new house and had to work on it full time for a year. I simply had no time to have my car checked.

Now that the work on the house is finished I made an appointment for renewal of the APK certificate. The mechanic at my local garage performed a check on my car and found quite a few items that were wrong with my car.

- exhaust leaking on two places.
- right rear wheel bearing making noise.
- handbrake practically not working.
- front wheels not rotating freely, brakes stuck.
- car does not brake evenly front and rear.
- passenger door not closing properly.
- head lights not according to Dutch regulations.
- front wheels out of body more than 30 mm.

He said: "I cannot approve this car and I cannot issue a new certificate. Good luck with it and let me know when you want another appointment."

I drove the car back to my workshop and I knew I had a problem: what to do with the wheels sticking too much out of the bodywork? All other points on which the car failed were fair enough. Wheels sticking too much out of the bodywork was a bit worrying. How could this be solved?

Exhaust leaking.
I removed the exhaust and made a new joint between header and exhaust pipe to achieve a good fit. I welded up a number of joints so they became permanent. Also made new brackets to fit the exhaust to the car by using rubber mountings. Good job. Item solved.

Rear wheel bearings.
This car has a Vauxhall Chevette axle. In order to fit new rear wheel bearings the half shafts need to be removed. First I dismantled the wheels and drum brake assemblies. After that I fabricated a tool to pull the half shafts and made a very long puller to get the wheel bearings off.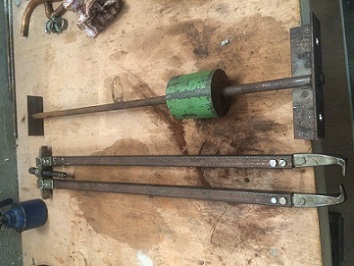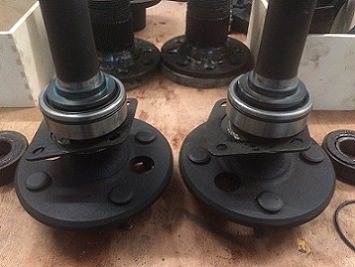 Special tools and new rear wheel bearings.

Before removing the wheel bearing I had to remove a ring that is shrunk on the axle with a hacksaw. This ring prevents the bearing from loosening itself from the axle. After the wheel bearings were removed I was able to take dimensions and order new rear wheel bearings. Offcourse I ordered new bearings and rings for both sides. Fitted the bearings and after heating up the rings red-hot they were fitted. I ordered new brake cilinders as well for both rear wheels, made new gaskets for the half shafts. I also adjusted the handbrake cables left and right. Good job. Item solved.

Front wheel brakes.
Good point. The calipers were hardly working! I removed the wheels and took the calipers off to refurbish them. I had a hard time removing the pistons from the calipers. They were really stuck and once removed I immediately saw why. They were quite badly corroded. I cleaned up the calipers and ordered a revision set including new pistons. Calipers are Girling but identical to ATE calipers. Piston diameter is 40 mm. I also replaced the front wheel bearings. After bleeding the brakes I tested the car. Perfect!
As of last year a car now has to be tested on a special installation that measures applied brake force for each side. I hope it will pass this test later because I can't check this myself. The car brakes good now so I will have to hope it brakes evenly left and right during this test.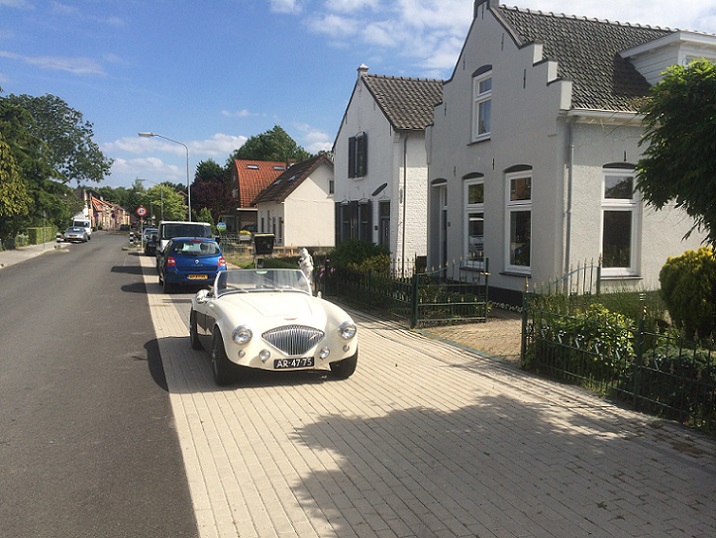 Test run: brakes OK! Parked in front of my new house.

Doors.
OK, they could not be closed easily. After investigation I noticed a problem with the striker plates on both sides. I made two bushes for them. These bushes made them a bit thicker and now both doors close perfectly. Good job. Item solved.

Head lights.
This car was equipped with sealed beam front lights. These are forbidden in Holland because the light pattern is wrong. They only shine straight forward but not towards the side of the road. I bought two second hand front lights and fitted them using the existing chrome rings and pods. Item solved.

Wheels and bodywork.
The major issue here. Two options basically. Extend the bodywork or replace the wire wheels with "normal" wheels. Extending the bodywork would mean that I had to extend on each side with extra flares of 45 mm! My conclusion: the wire wheels had to go, at least temporarily, in order to pass the test. I was lucky to find a nice set of rims with good second hand tires on them. The only problem was that I had to press sixteen new studs in the houses for the wheel bearings because they were cut off to accomodate the wire wheel adapters and therefore too short for normal wheels.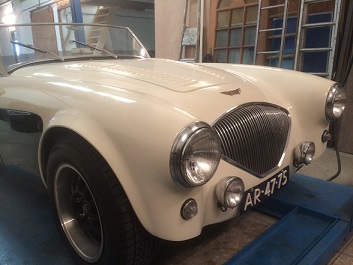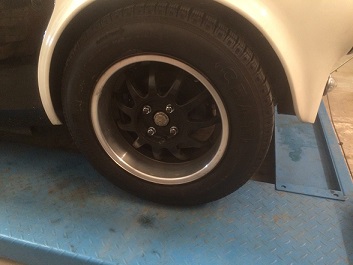 Other wheels fitted to pass the test.


MOT time! Again.
A new appointment was made and I was surpised I could have a check again within two weeks after the last check. Everything was now perfectly in order. The only crucial part was the brake test. Not spot on though. The guy at the garage misplaced his glasses, told me the allowed difference and let me do the reading of the brake forces;-) Guess what: it passed the test!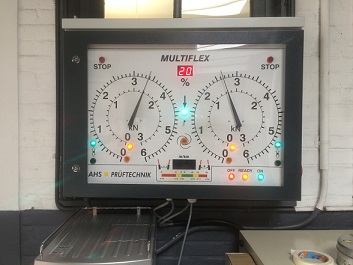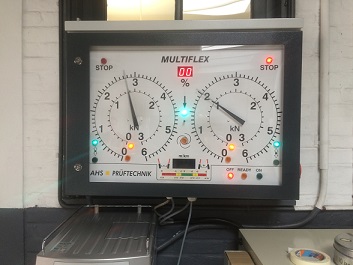 Front wheel difference (left) and rear wheel difference (right).

It is now offical. Another valid MOT for the next two years!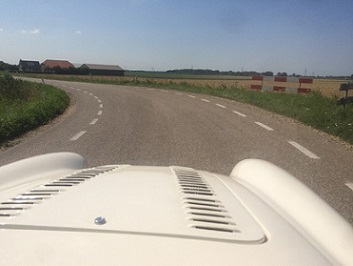 Click here for an impression...
Site hosted by in2documents BV Klundert