"Putting style on the road"
The story of Haldane Developments and what happened...
The Haldane HD-100 Mk I
The chassis, together with locally produced body shells, launched the first kits in 1988.
In this initial period several bodies were made by Solway Marine of Dumfries and thereafter by a company in Leven, Fife. The first eight or so chassis were made by Haldane themselves in Blantyre. After that the chassis were outsourced to Paisley Welding Co. Galvanising the chassis was an option and this option was often chosen by customers.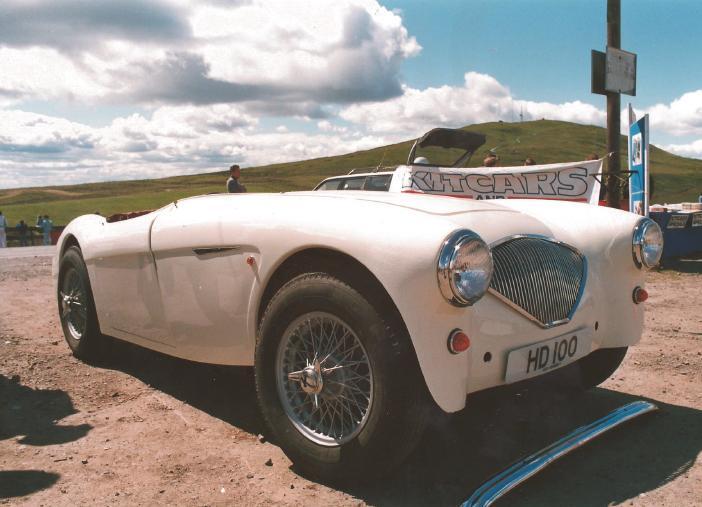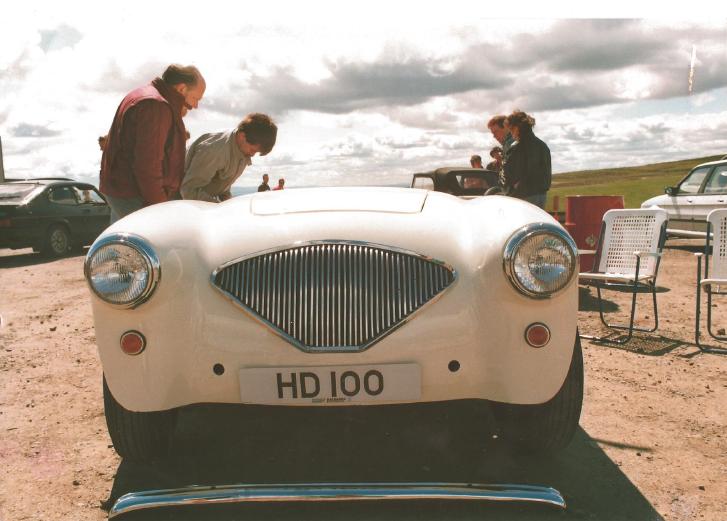 Left: Haldane HD-100 at Knockhill kitcar show.
Right: Brian and Alasdair preparing the car.
Back in those days the Healey 100 windscreen pillars and frame were not readily available. These items were made by Peter Girvan, later to become employee with Haldane Developments. The windscreen pillars were cast in one piece . Due to the possibility of scuttle-shake and windscreen cracking, the Haldane HD-100 did not utilise the "fold-down" windscreen as was an option on the Healey 100. These original Healey stanchions were, and still are at the moment of writing, quite rare.
Brian Harrison:
"When we were in production the pillars were cast by a company 50 metres behind David Haldane's garage. But that company has long gone".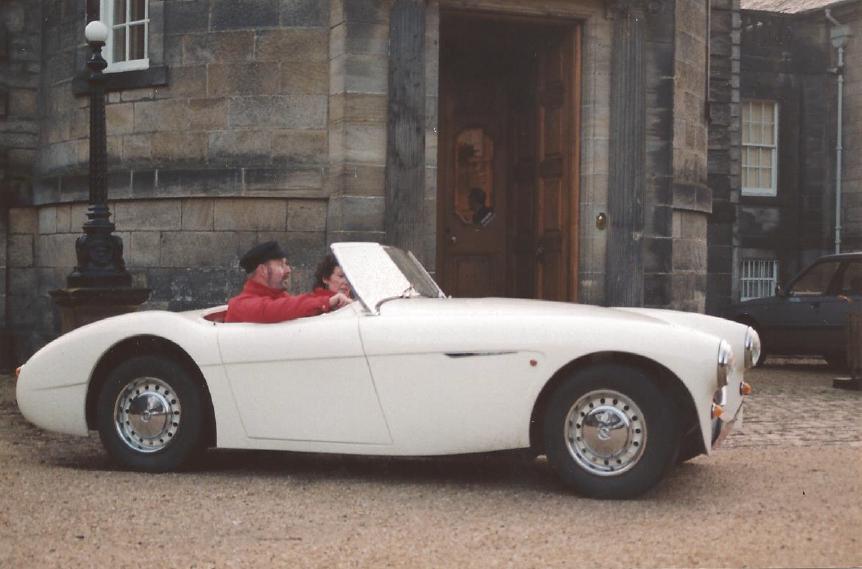 Left: David Haldane and his wife Moira in the first car built.
Right: Alasdair Scott driving Q315 RDS.
Over time the first cars were more and more developed. A mould was made from an original Healey hardtop, front inner wings were added and the overall interior and exterior details were improved. The first brochures were made by the company. The first car, Q315 RDS, was tested by magazines of the day including "Classic Replica's" and "Kit Car".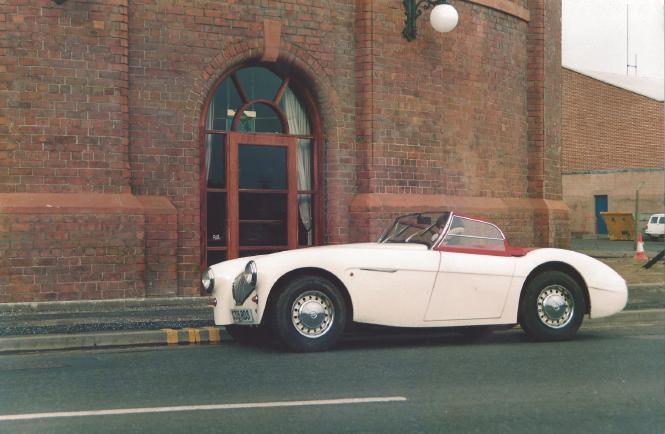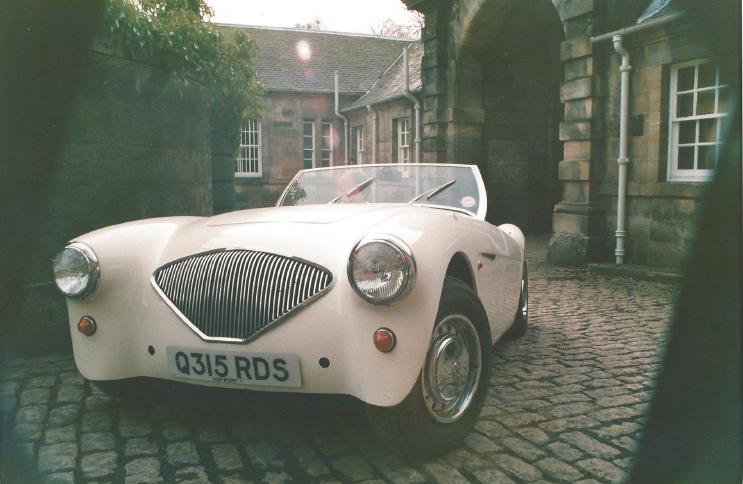 Photo session for the first brochure.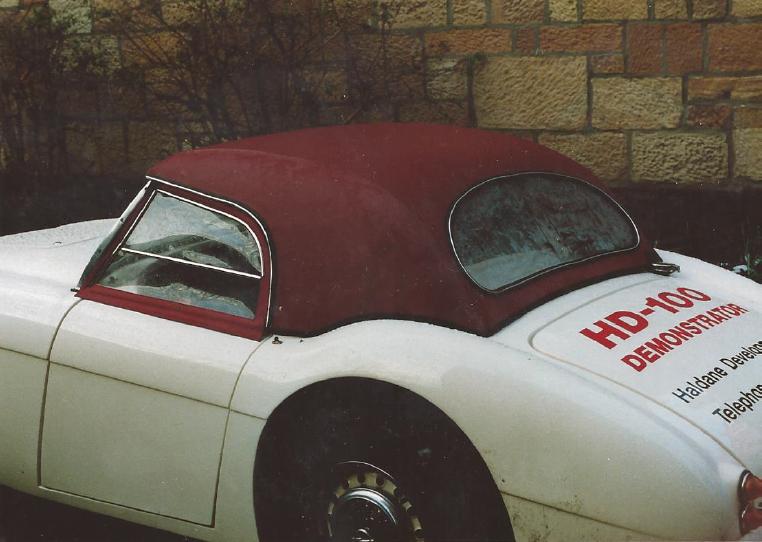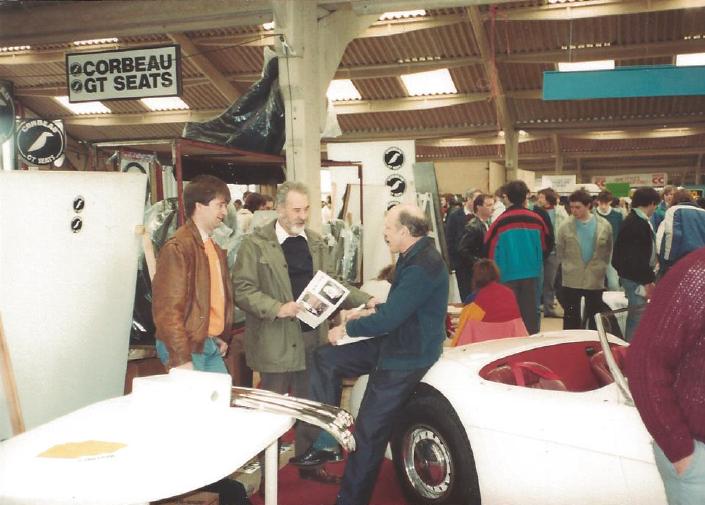 Left: The Haldane HD-100 as a demonstrator car with hardtop and original side-screens.
Right: Alasdair (left) and Brian (right) handing over a brochure to a potential customer (middle).
By this time, 1988 towards 1989, the Haldane HD-100 cars were steadily being built. Although Haldane did not advertise its products there was a steady flow of orders coming in. In total around 20 Mk I Chevette based HD-100's were built.
Body's could be delivered in deflashed mat gel coat for spraying and several were also produced in coloured and polished gel coat. Doors, bonnet and boot lid were pre-fitted to the body to guarantee good alignment. Engine, gearbox, propshaft and other mechanical parts could be sourced by Haldane on request by the customer.
A comprehensive list of parts to expand the kit was established with a number of options including wire wheels, tonneau cover, softtop, hardtop, front and rear bumpers and louvered alloy bonnet. The chassis could be delivered with a nut and bolt pack, optionally galvanised and fully built with engine, gearbox, suspension etcetera installed as the customer required.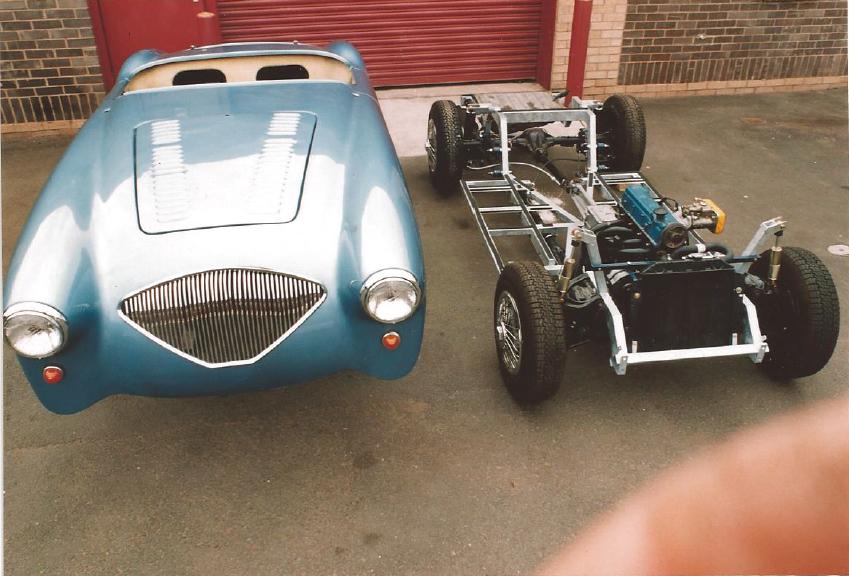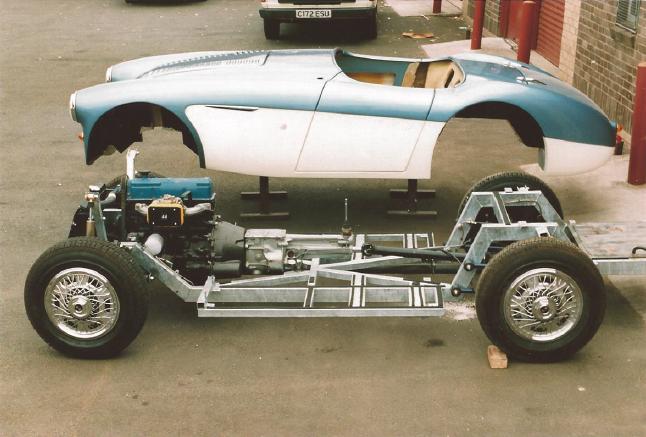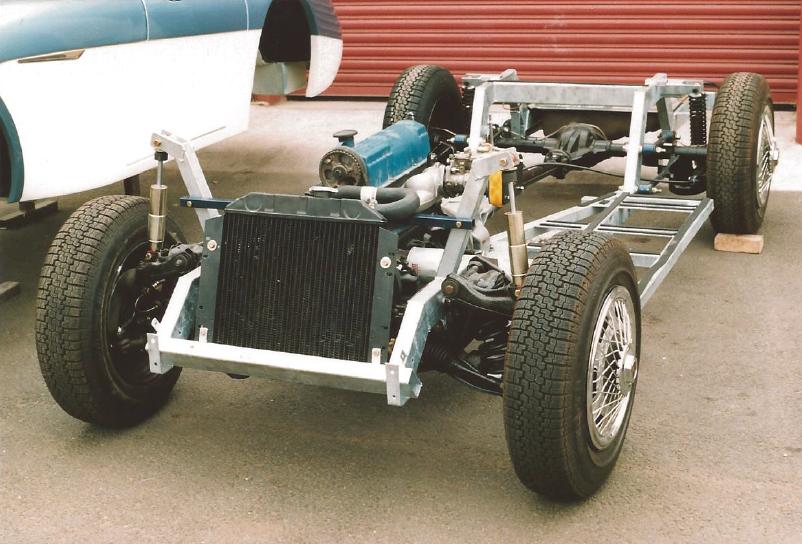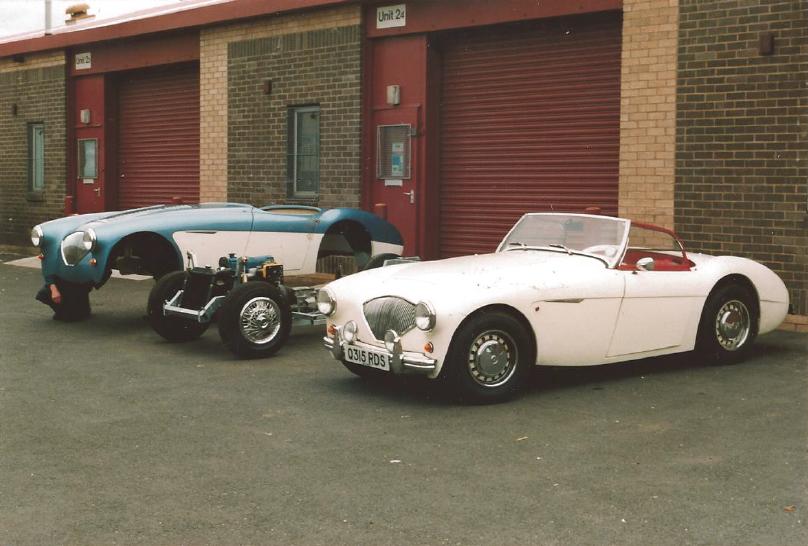 1989: A new body and chassis with a Ford Pinto 2.0 ltr OHC engine and 4-speed gearbox awaiting delivery. This is chassis number 008 and is currently owned by the author.
This car was originally sold to Alexander Anderson, the company director of Andersons Engineering, later to become CEO of Haldane.
What has happened to this car in all these years is not certain (yet). At some point in time it was painted red and subsequently two tone white over black. Wheel arch flares were added and at some point in time the wing flashes were mounted the wrong way round.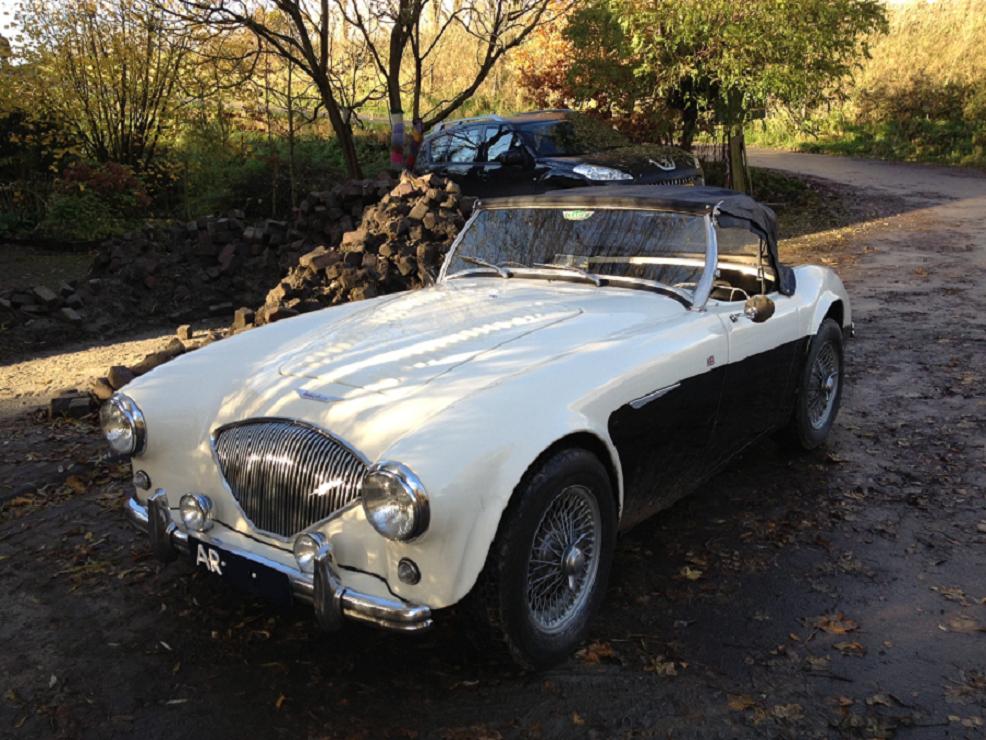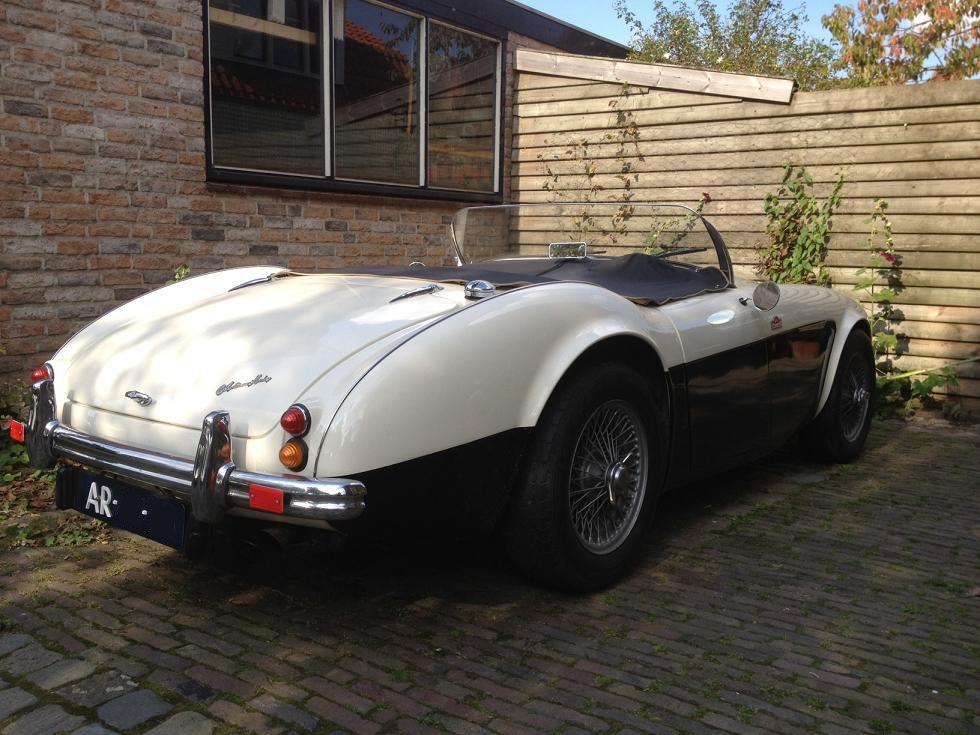 2013: The same car, chassis number 008, with different looks ending up in The Netherlands.
The year 1989 also saw the first appointment of an agent for Haldane. R. & M. Downes in Nottinghamshire was featured in "Old Car" with the demonstrator car Q315 RDS. The Ford Pinto engine was now fitted with a Fish carburettor, quite rare! Ray Downes built at least one Haldane, the car with registration number RFU 784M.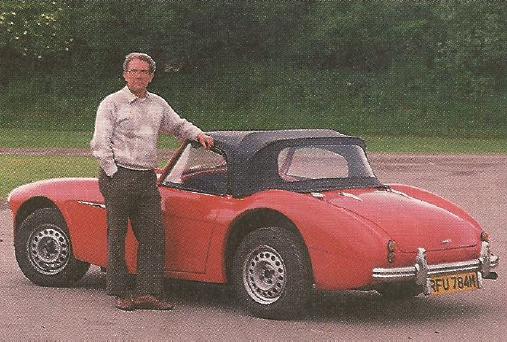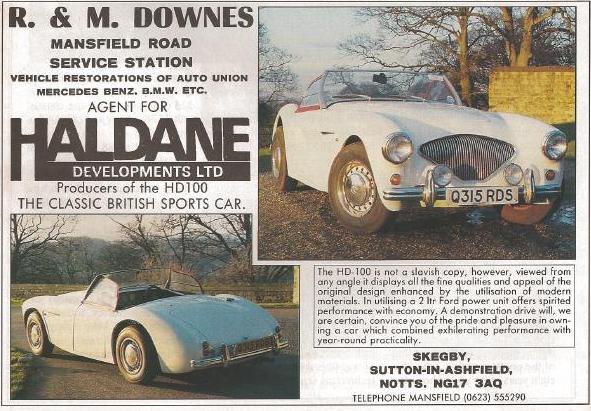 Left: Haldane built by Downes.
Right: Ray Downes as an agent for Haldane.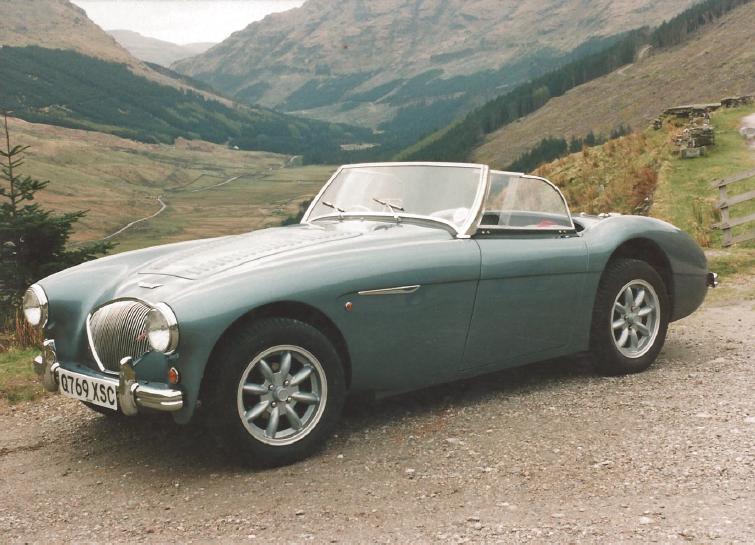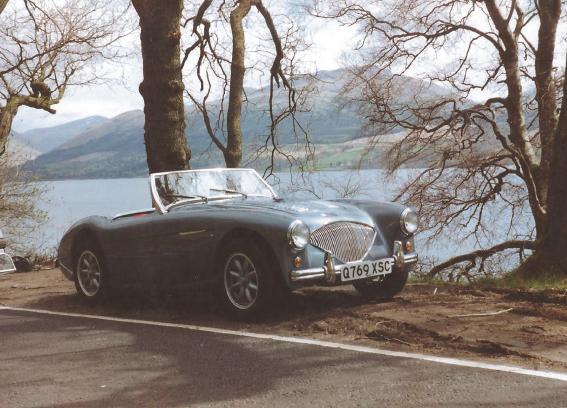 Another Haldane HD-100 Mk I, car Q769XSC. This car was completely built and assembled by Haldane and was frequently used in articles and brochures. This car for example featured in the article "Strong Scotch" where Graham Nash, Brian and Alasdair delivered the car to its owner up in Lochgilphead, Scotland, doing a road test at the same time.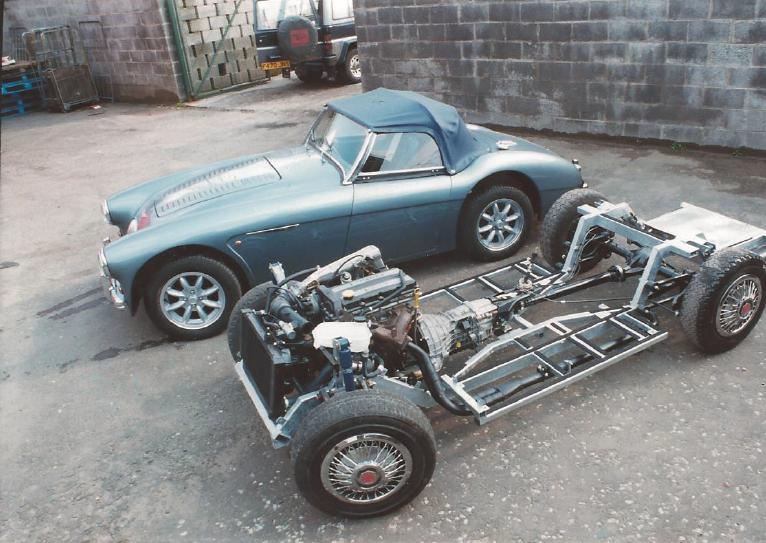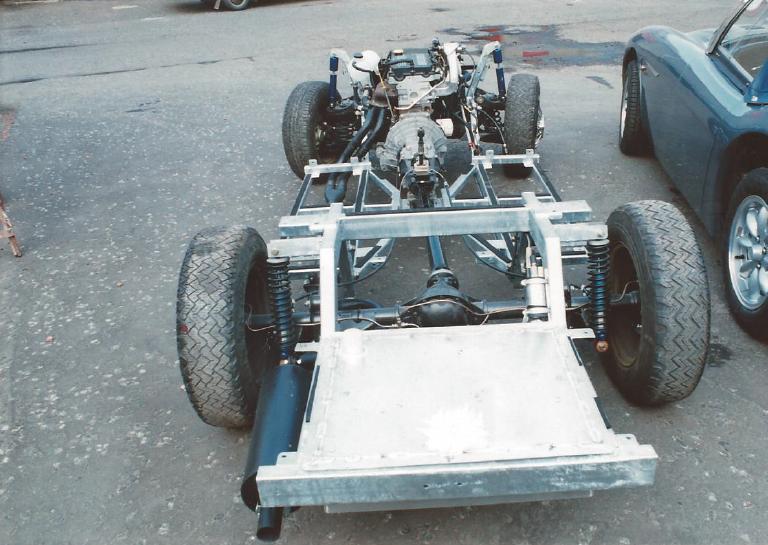 By 1990 the HD-100 chassis was also mated to the Ford Sierra 2 litre DOHC engine and MT75 gearbox. Complete with fuel injection and engine management system.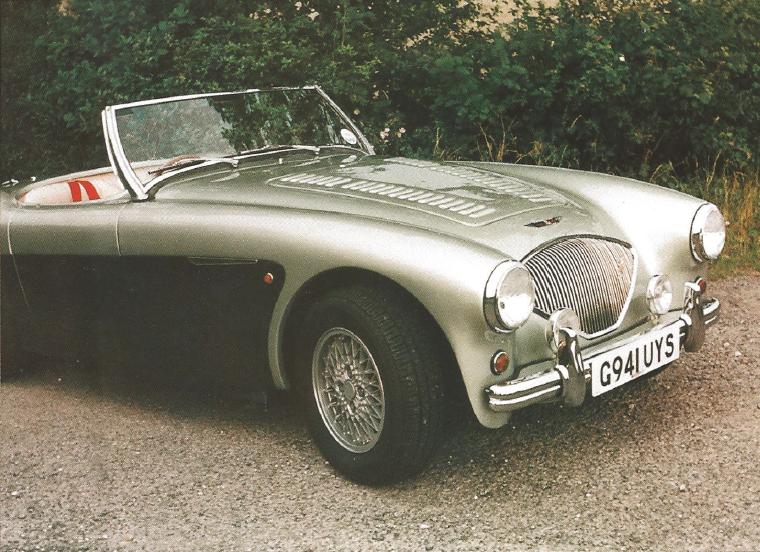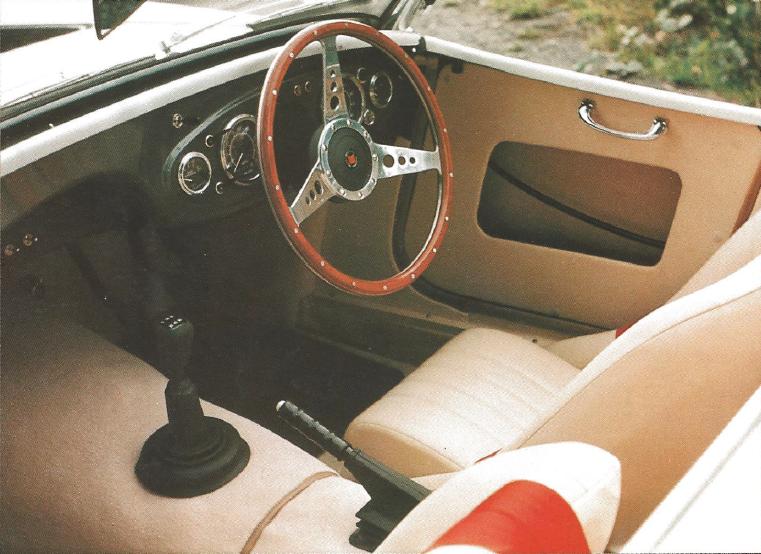 G941 UYS believed to be the last Mk I car built.
Brian Harrison regarding G941UYS:
"After a few months in our original small workshop, the Managing Director of a luxury home building company which had bought a small print works across the road from us asked if we would be interested in using the greater floor area of the print works for production as he only needed the offices. In return he waived rent in lieu of us building him a car. This was the two-tone green metallic 100M featured in the "Highland Fling" article. I think that was the last Chevette-based car we built."
Back to index
Next chapter->