"Putting style on the road"
The story of Haldane Developments and what happened...
The Haldane HD-100 Mk II
During 1990 it became more and more clear that Chevette suspension parts were going to run out and the car would benefit from a complete chassis and suspension re-design so Alasdair set about designing a back-bone chassis with independent suspension.
This decision meant for Haldane that production was halted for some period in 1990 - 1991 to develop the new chassis. A "Geoscan" computer programme was used in this process to optimise the suspension geometry. Uprights and driveshafts were selected from the Ford Sierra. An extra bonus regarding this new chassis was that more interior space was available and provision was made for a roll-over bar.
The Haldane HD-100 Mk II was born and launched in spring 1991.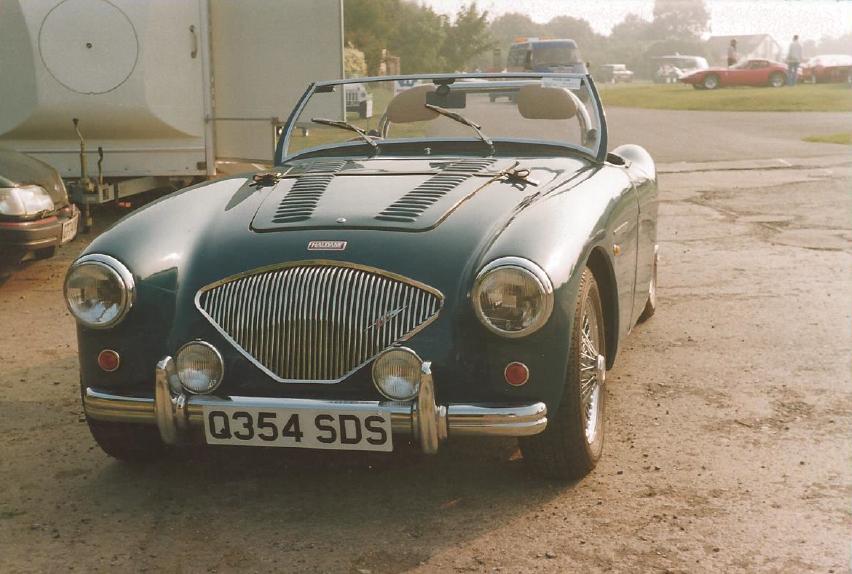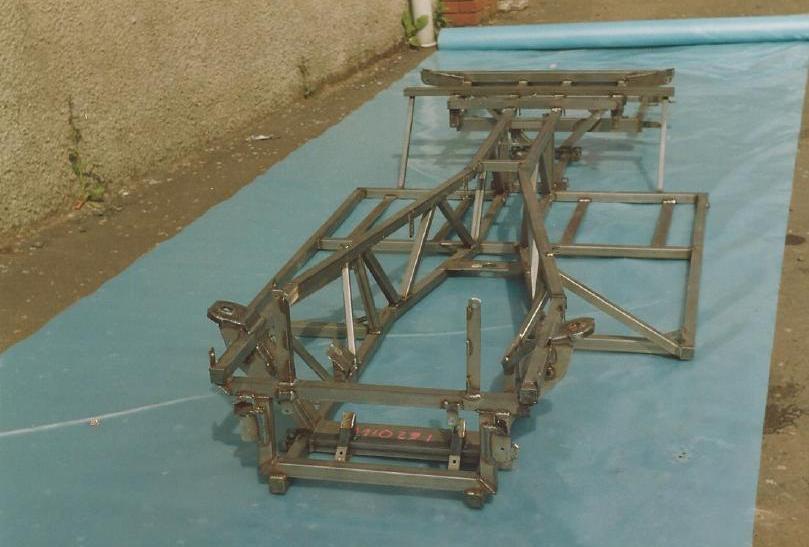 Left: The Haldane HD-100 Mk II, Q354 SDS being the first Mk II car.
Right: Newly designed Mk II chassis.
With the introduction of the Mk II a proper "Haldane" badge was now available. The Mk I cars were usually equipped with badges from Austin Healey, but that was now no longer the only option.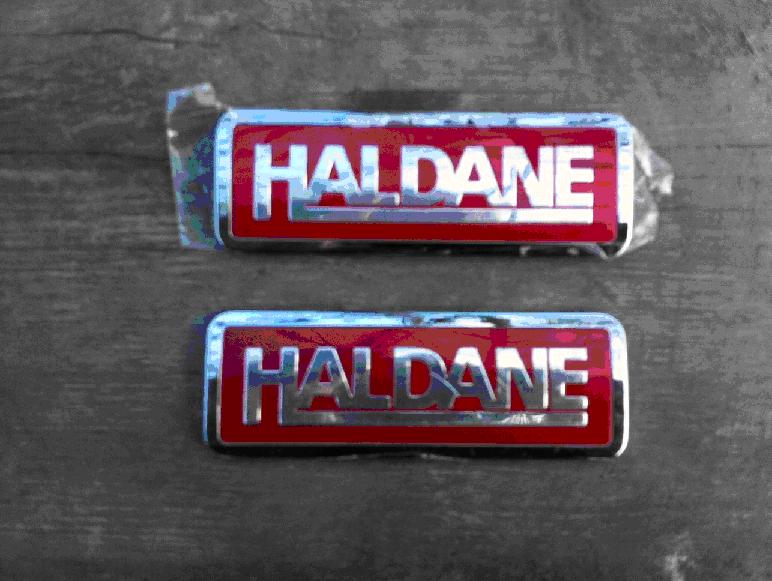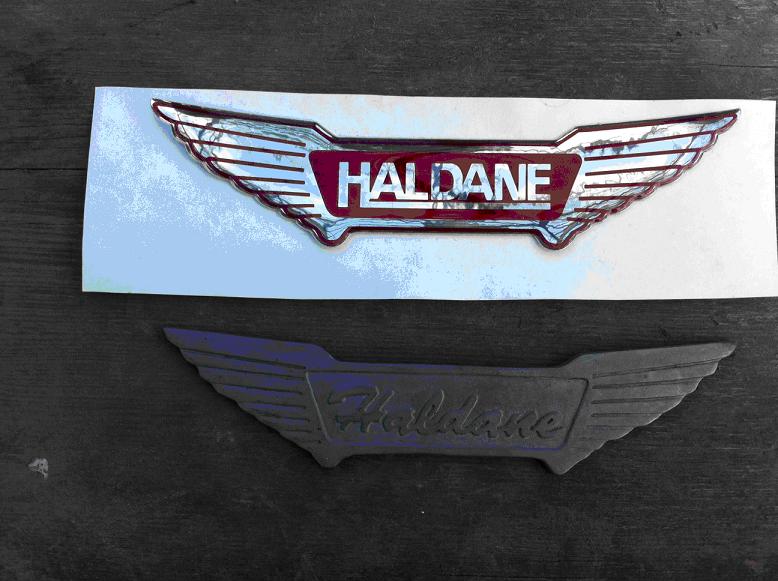 Left: Badges designed for the Haldane Mk II.
Right, top: Badge for the Haldane HD-300.
Right, bottom: Master model of latest version badge for production HD-300.
The first version of this chassis had the problem of not being stiff enough. Extra strengthening tubes were quickly added but the Mk II chassis was not quite as stiff as the Mk I chassis.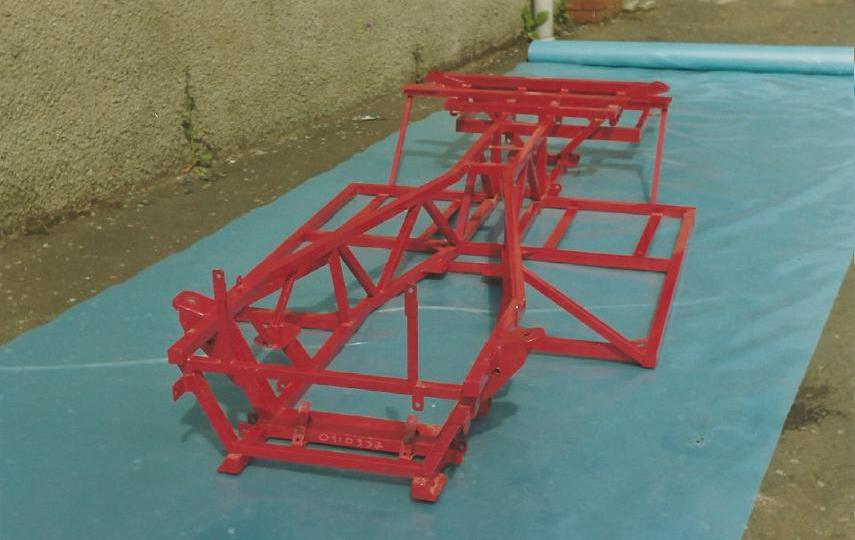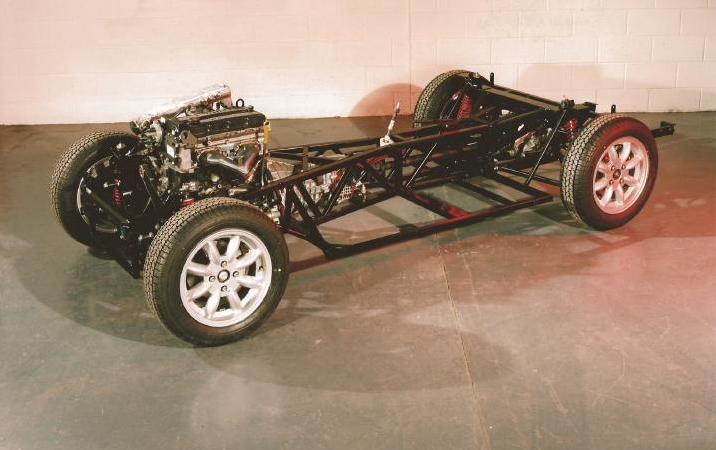 Left: Early Haldane Mk II chassis.
Right: Haldane Mk II chassis with extra strengthening tubes.
In October 1991 Haldane attended the SECC, bi-annual motor show. This show was in Glasgow and because Haldane was a "local" participant they got a fair amount of publicity in newspapers around this time (see header photograph).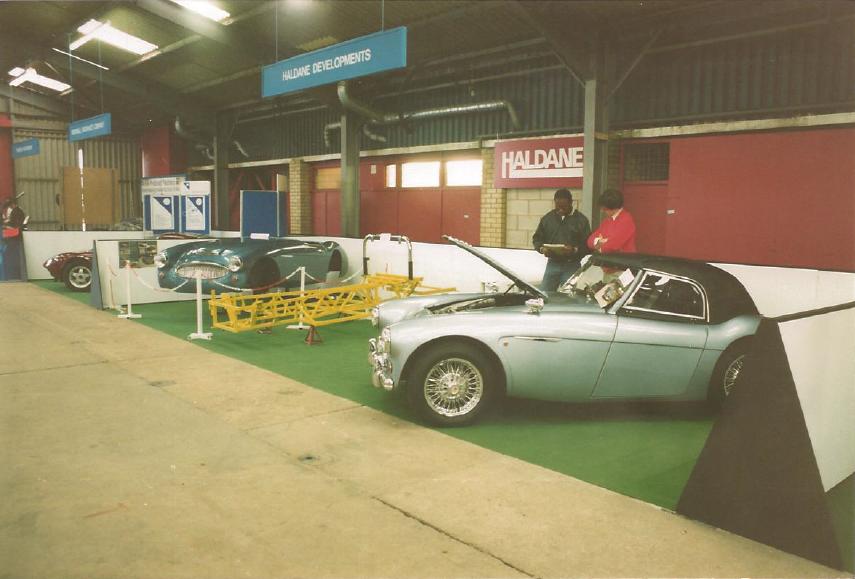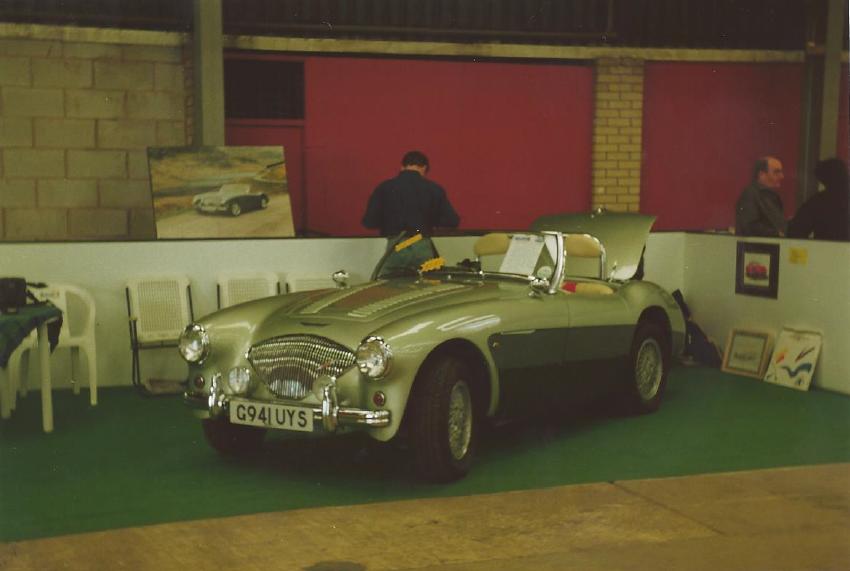 1991 Attending the Stoneleigh Kitcar Show.
Brian Harrison:
"As a matter of interest: I met Gerry Coker, the designer of the Healey 100, at a show in 1991. It was a very interesting conversation and he was enthusiastic about what we were doing to put his design back on the market. He said that his original design did not have the chrome strips between the body and the wings. They were needed to fill up gaps between these panels and he thought that, without them, the Haldane was a very good representation of his concept. I also had a call from Geoffrey Healey saying he liked the cars and asking if he could be involved in their promotion".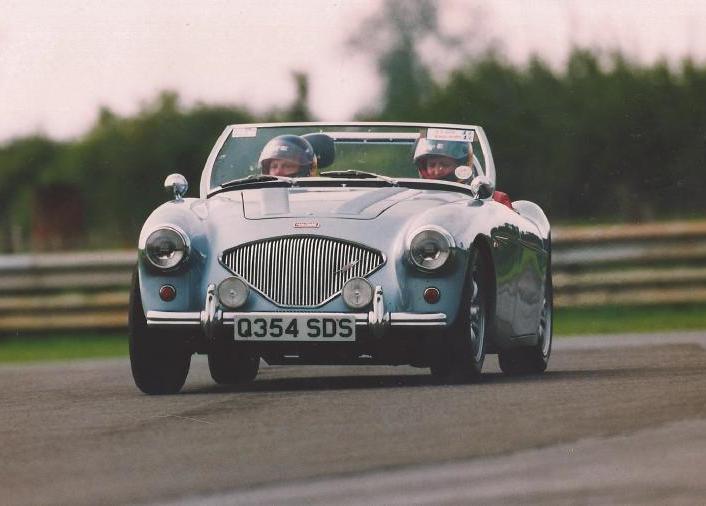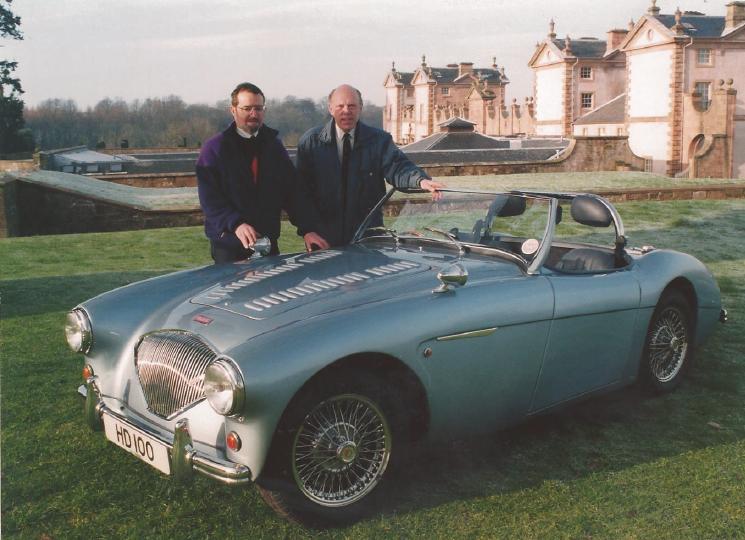 Left: Track testing Haldane HD-100 Mk II on Castle Combe circuit 19 Sep 1992.
Right: Peter Girvan and Brian Harrison with the Mk II.
Brian Harrison:
"I raced cars for 8 years and had a reputation as a test driver. The early ladder frame chassis with Vauxhall (Opel) suspension parts was surprisingly by far a better handling car, on the limit, than the later space frame chassis with Geoscan suspension, which Alasdair designed for the Mk 2 100 and 300."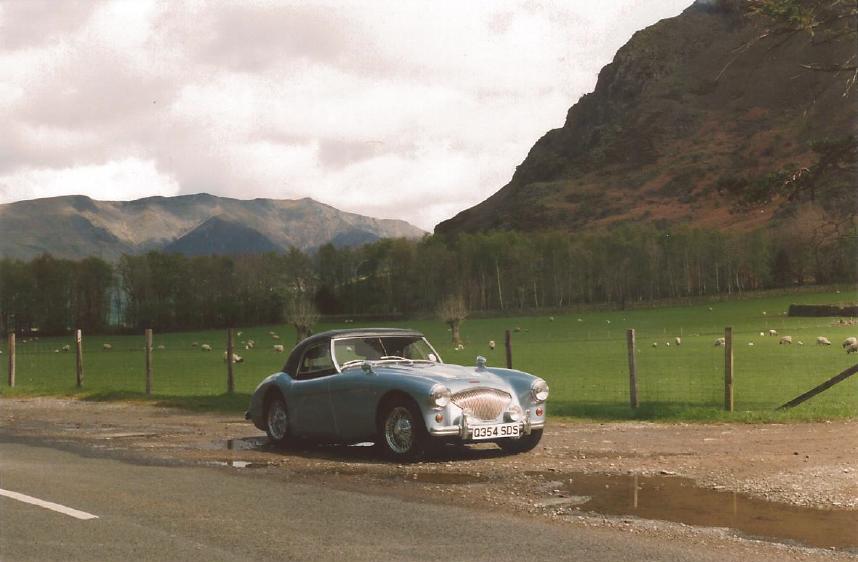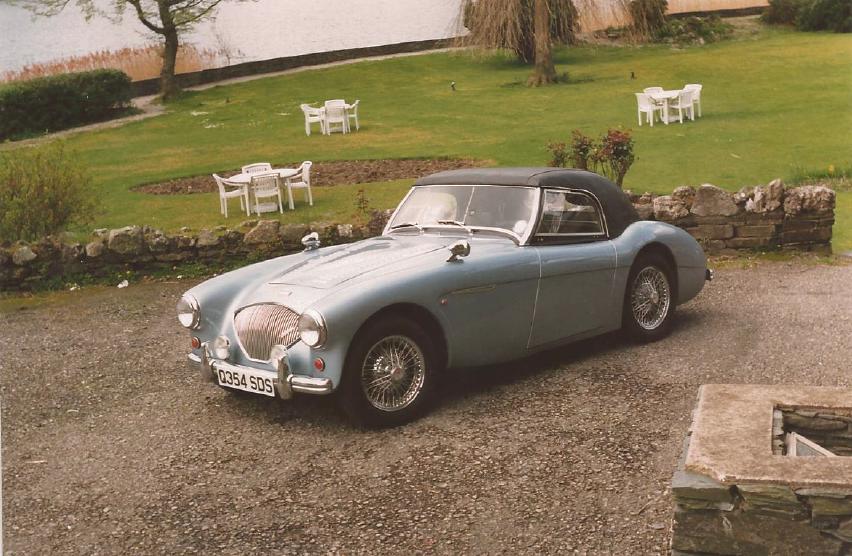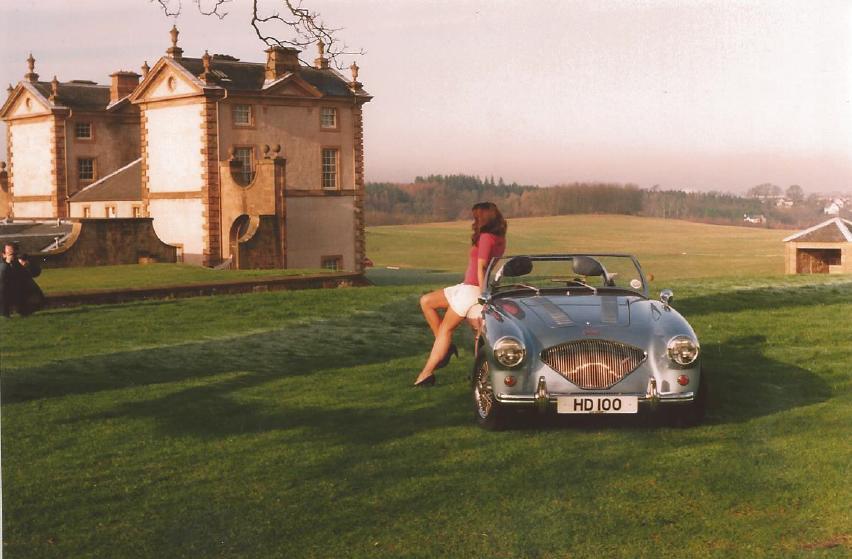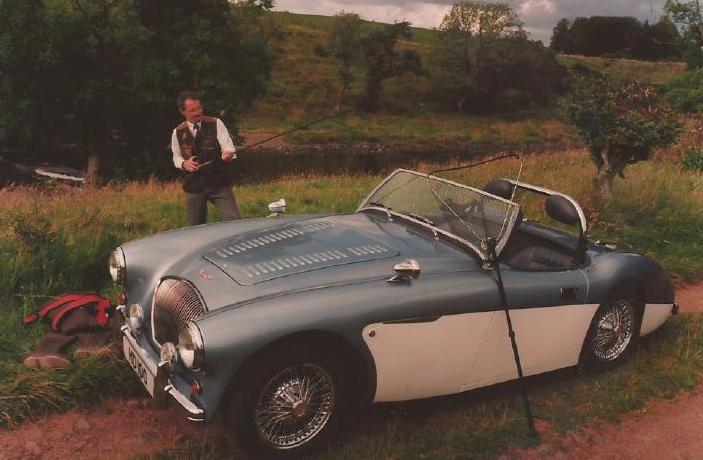 Haldane HD-100 Mk II: Photographs for the press.
Brian Harrison:
"Track days with the original Chevette-based chassis had been a big surprise for me and having expected it to be "all over the place" the car was in fact very predictable and real fun to drive especially at Castle Combe Circuit where I could hold it in a full power 4-wheel drift with white knuckled passenger on board. By contrast, track days with the Mk 2 chassis were not so enjoyable. The later HD-300 with its heavier and higher mounted DOHC engine on long, high speed, sweeping bends, would twist into over steer and on exiting the corner the car would very suddenly unwind and dart to the outside of the track. The car also felt ''springy'' between the front and rear indicating that the backbone was flexing. It should be noted that these limitations were only really noticeable with the DOHC engined cars during track testing and the car handling was perfectly acceptable in general road use".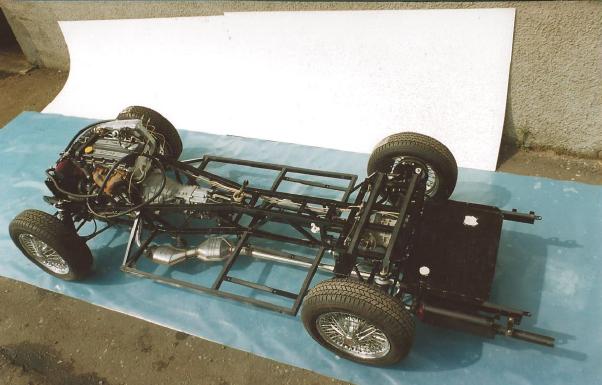 Mk II body and frame ready for delivery.
Most Haldane cars, both HD-100 Mk I and HD-100 Mk II cars were delivered as kits. This meant that these cars were built according to the taste of each individual customer. For the interior several dashboard layouts were offered. There were also left hand drive versions available. In several articles it was stated that cars were delivered to mainland Europe, America and Japan. This however has not been confirmed yet. At the time of writing at least two cars are in Belgium, two in Holland, two in Germany, one in France and one in America.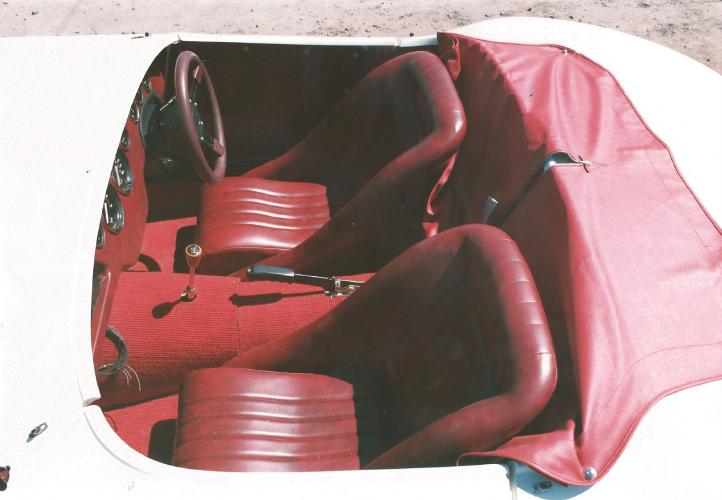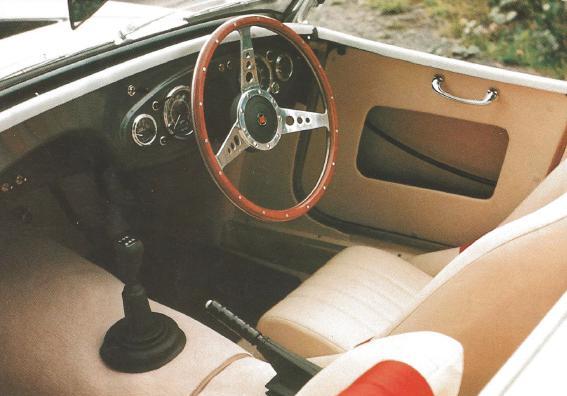 Left: Early style interior versus later style interior (right).
Back to index
Next chapter->